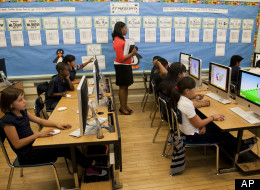 Small class sizes are crucial for learning at the younger grades, but may be less important as children mature, according to a new study.
The report, called "Smart Class-Size Policies for Lean Times" and released in March by the Southern Regional Educational Board provides 4 major recommendations
States should maintain smaller classes where the research shows academic benefit –– pre-K through

third grade and for certain groups of students, including students at risk of academic failure.

If class size is increased at any grade level, states should require schools to monitor individual student

achievement in those grades continuously to reduce the chances of failure.

As new measures of teacher effectiveness are implemented, state leaders need to study the relationships

between class size, teacher effectiveness and student performance to determine how to adjust class size

and leverage academic gains.

States need to inform the public about their class-size policies, particularly when they or their legislatures

contemplate changing them.
reposted